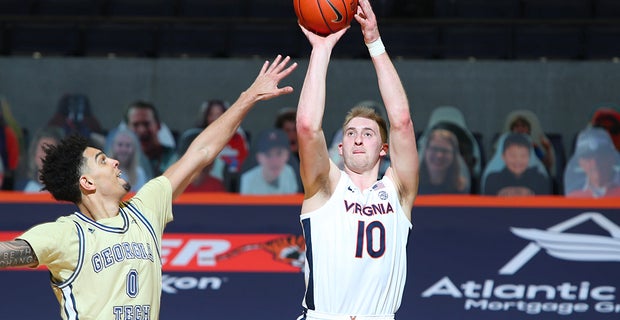 The No. 13 Virginia Cavaliers return to action tonight as UVA plays host to the Syracuse Orange.  Las Vegas has weighed in on the contest.
According to oddsmakers, UVA opened as a 6.5-point home favorite.  The ESPN BPI and KenPom predictions are in for the game.
According to the ESPN BPI, UVA has a 73.2% probability of winning.  The predicted margin of victory is 5.8 points in favor of Virginia.  According to KenPom, UVA has a 73% win probability.  The predicted final score is UVA 68, Syracuse 61.  
HOW TO WATCH
Date/Time: January 25th at 7:00 p.m.
Location: Charlottesville (Va.) JPJ Arena  
TV: ESPN
Streaming TV: CLICK HERE to watch online
Streaming Radio: CLICK HERE to LISTEN Live
Live Stats: CLICK HERE for live stats
Game Notes
For Openers
• No. 13 Virginia (10-2, 6-0 ACC) hosts Syracuse (9-4, 3-3 ACC) in ACC Big Monday action on Jan. 25.
• As of Jan. 24, Virginia ranks second nationally in turnovers per game (8.2) and personal fouls per game (12.8), fourth in free throw percentage (80.4), sixth in scoring defense (59.6), and assist/turnover ratio (1.7), 15th in field goal percentage (50.5) and 22nd in 3-point field goal percentage (38.9).
• The Cavaliers have a six-game winning streak and have started 6-0 in the ACC for the first time since starting 12-0 in 2017-18.
• UVA has a 14-game ACC winning streak dating back to 2019-20.
Broadcast Information
• The Virginia-Syracuse game will be televised on ESPN and streamed online at WatchESPN.com and ESPN App.
• The game will also be broadcast on the Virginia Sports Radio Network, VirginiaSports.com and Virginia Sports app.
• Live statistics will be located on VirginiaSports.com and the Virginia Sports app.
• Join the Voice of the Cavaliers Dave Koehn and special guest Reece Beekman for the "Wahoo Walkthrough" at 6 p.m. on the Virginia Sports App, VirginiaSports.com and select stations on the Virginia Sports Radio Network.
The Head Coach
• Three-time National and four-time ACC Coach of the Year Tony Bennett has a 287-98 (.746) mark in 12 seasons at Virginia and 356-131 (.731) career mark in 15 seasons.
• Bennett led the Cavaliers to their eighth straight season with 23 or more wins in 2019-20.
• In 2018-19, Bennett led the Cavaliers to their first NCAA national championship, a share of their ninth ACC regular-season title and school-record 35 wins.
• UVA is 142-58 (.710) in ACC play (80-20 at home & 62-38 away), 160-29 (.847) at home and 145-40 (.784) in non-conference action (82-7 at JPJ) under Bennett.
• Bennett ranks fifth all-time in winning percentage at .710, among ACC head coaches with 100 or more ACC regular-season wins.
All-Time vs. Syracuse
• UVA is 8-6 all-time against Syracuse, including a 7-2 mark in ACC action, in the series that dates back to 1983-84.
• Syracuse ended Virginia's four-game winning streak with its 63-55 overtime win in Charlottesville last season.
• The Cavaliers recorded a 48-34 win at Syracuse to open the 2019-20 campaign.
• The Cavaliers are 3-2 against the Orange at John Paul Jones Arena.
• UVA has held the Orange to 68 or fewer points in each of the last 10 meetings between the teams.
• Head coach Tony Bennett is 7-3 all-time against Syracuse.
Last Time vs. the Orange
• Joseph Girard III netted 19 points and Elijah Hughes added 18 as Syracuse knocked off then-No. 18 Virginia 63-55 in overtime on Jan. 11, 2020, at John Paul Jones Arena.
• Buddy Boeheim added 14 points as the Orange drilled 12 of 30 3-pointers in the road win.
• Jay Huff recorded his second career double-double with 16 points and 10 rebounds for UVA.
• Virginia used a 12-0 run to take a 35-30 lead, but Syracuse outscored the Cavaliers 13-8 to send the game to overtime.
• The Orange nailed 5 of 6 3-pointers in the extra session to end a four-game UVA winning streak in the series.
• Kihei Clark and Mamadi Diakite each added 13 points and Braxton Key had a team-high 11 rebounds for Virginia.
• UVA shot 31.3 percent, including 7 of 31 from 3-point range.
Hoo Are These Cavaliers?
• Kihei Clark, Sam Hauser and Jay Huff lead the Cavaliers into action against Syracuse.
• Clark, who dished out a season-high eight assists vs. Georgia Tech, has averaged 10.2 points and team-high 4.1 assists.
• Hauser leads the team in scoring (14.5 ppg) and rebounding (7.4 rpg), and is shooting 51.9 percent from the field and 41 percent from 3-point range (25 of 61).
• Huff leads the team in blocked shots (2.5 bpg) and is second in scoring (13.3 ppg) and rebounding (5.8 rpg).
• Trey Murphy III (10.4 ppg) leads the team in 3-pointers (27) and 3-point percentage (50.9%).
• Rookie Reece Beekman has a team-high 20 steals, 32 assists, and 34 rebounds.
• Casey Morsell (6.9 ppg) has averaged 9.7 points and 3.0 rebounds in three games after missing a pair of contests due to contact tracing.
Justin McKoy (4.2 ppg and 3.4 rpg), Tomas Woldetensae (40% 3FG) and Kadin Shedrick (3.5 ppg & 2.9 rpg) have added depth, while Kody Stattmann (4.7 ppg, 2.3 rpg) remains sidelined with a non-COVID-19 related cardiac issue.
 UVA Ranked No. 13 in Latest AP Poll
• Virginia is ranked No. 13 in the latest Associated Press poll.
• UVA has been ranked in the top 25 of the AP poll for 11 straight weeks over the past two seasons.
• UVA was ranked No. 4 in both preseason polls, marking its third AP preseason top-5 ranking in school history (No. 1 in 1982-83 and No. 5 in 2018-19).
• UVA has been ranked in the top 25 in the preseason rankings in nine of the past 10 seasons.
Last Time Out
• Sam Hauser scored a season-high 22 points and Jay Huff matched a career-high with 18 points and five blocks as No. 13 Virginia rallied for a 64-62 win over Georgia Tech on Jan. 23.
• The Cavaliers erased a 49-38 Georgia Tech lead and outscored the Yellow Jackets 26-13 to gain the win.
• Casey Morsell chipped in nine points and four rebounds off the bench, while Kihei Clark added eight assists.
• UVA shot 48.1 percent and outrebounded Georgia Tech 32-25.
• Jose Alvarado led Georgia Tech with 20 points, eight assists, and a JPJ record six steals.
On The Horizon
• No. 13 Virginia travels to No. 16 Virginia Tech for a Commonwealth Clash on Saturday, Jan. 30. Tipoff at Cassell Coliseum is set for 6 p.m. on ACC Network and Virginia Sports Radio Network.