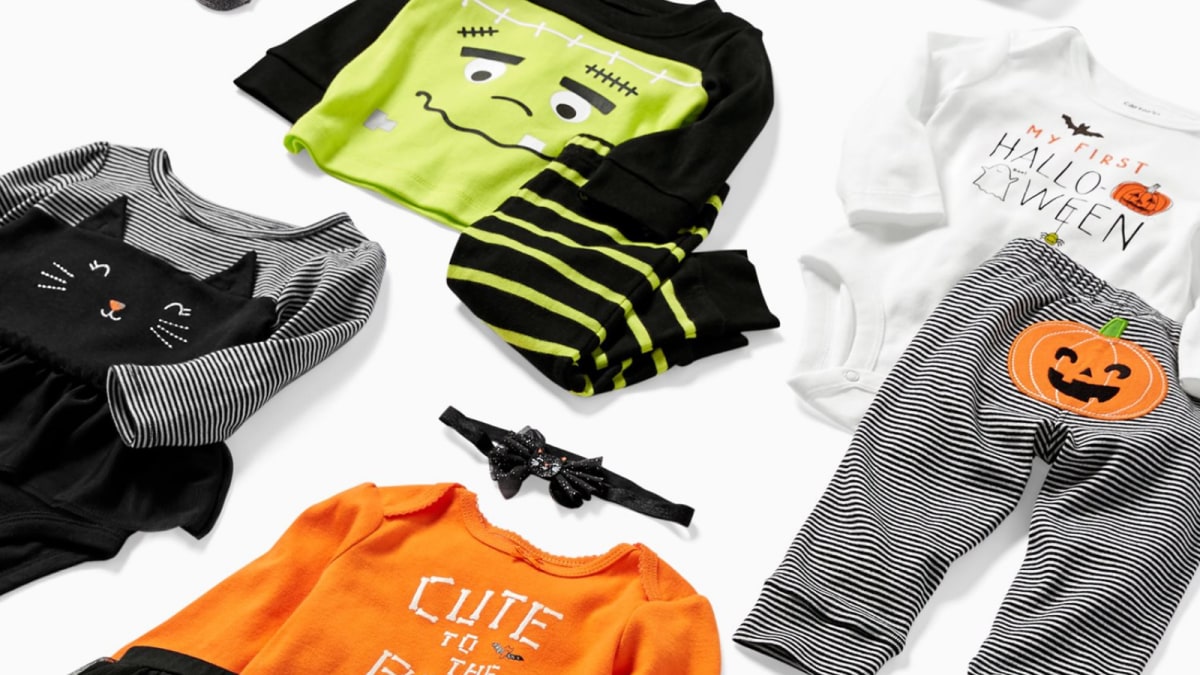 The 12 cutest baby Halloween outfits from Carter's
Though your late autumn plans may look a bit different this year for your little ones, you can still play dress-up! Carter's recently released a handful of Halloween outfits perfect for babies and young ones, and they're downright adorable.
From spiders to pumpkins to orange tutus, there is a spooky yet precious outfit for any little one to wear to gatherings, such as family Facetimes, distanced hangouts, or outdoor fall picnics. I'm partial to the warm and cozy options like this turtleneck bodysuit and this twill denim jacket, but there are plenty of orange and black outfits in our roundup as well! There's even a matching t-shirt that comes in sizes for the whole family, so everyone can look spook-tacular together this season.
1. This pumpkin surprise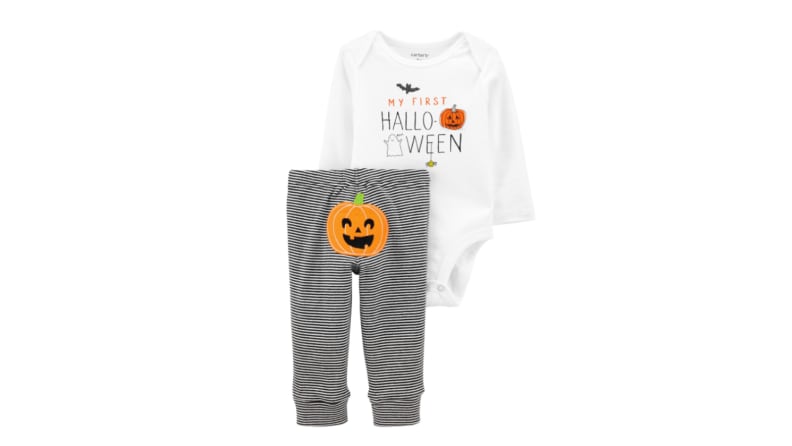 This two-piece Halloween outfit is perfect for any baby. The bodysuit has all the Halloween icons: a jack-o'-lantern, a ghost, a spider, and a bat. The striped pants are adorable and they have a happy pumpkin on the butt. I'd definitely like to see at least one little baby in this outfit on my family holiday Facetimes.
Get the Two-piece Halloween Pumpkin Bodysuit Pant Set at Carter's for $11
2. These sweet Candy leggings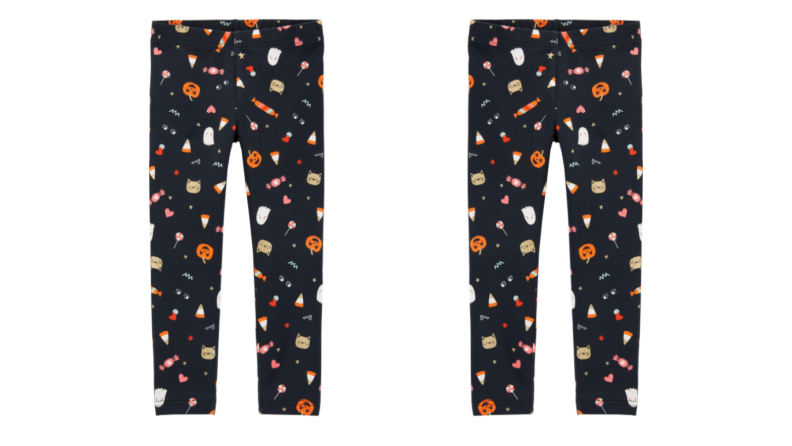 These gender-neutral leggings have all the best candies printed on them, including candy corn, lollipops, and chocolates. Meanwhile, the little cats, ghosts, and pumpkins add in pops of color and extra Halloween vibes. Your baby will be perfectly festive for any gathering with these pants, plus, they pair well with bodysuits to make a quick and easy outfit.
Get the Halloween Candy Leggings at Carter's for $8.40
3. This adorable cat Jumper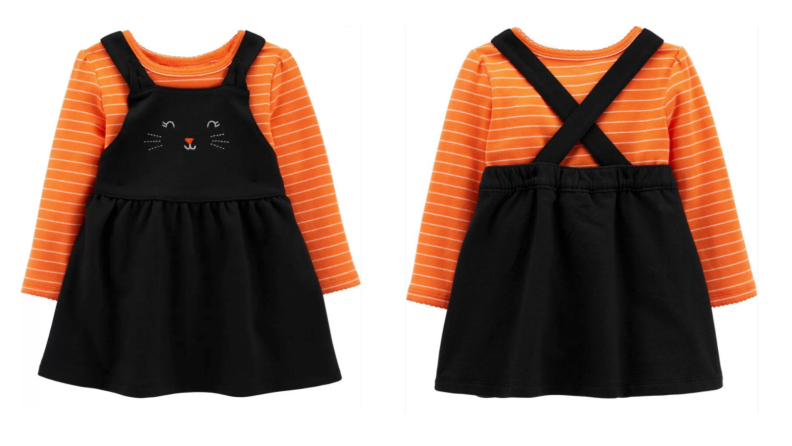 This sweet little two-piece outfit is perfect for celebrating Halloween with loved ones (six feet apart, of course). There is a small cat face and whiskers embroidered on the jumper, making it just a little spooky and one hundred percent adorable. The outfit comes with an orange and white striped bodysuit, but I think the jumper would be cute with any solid color or striped bodysuit.
Get the Two-piece Halloween Bodysuit & Jumper Set at Carter's for $14
4. This silly spider set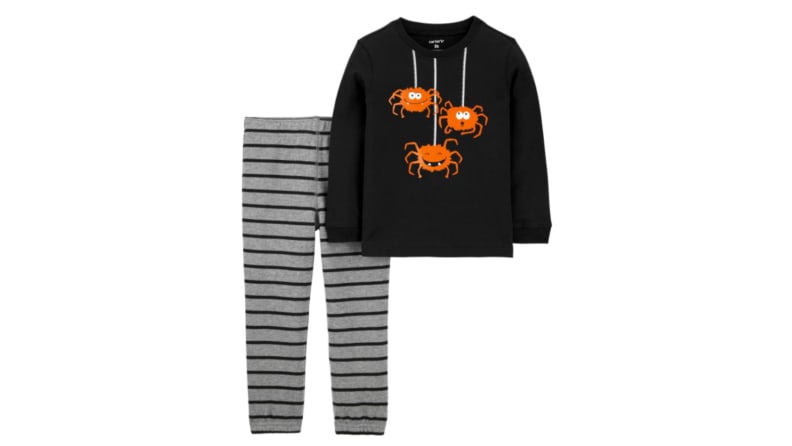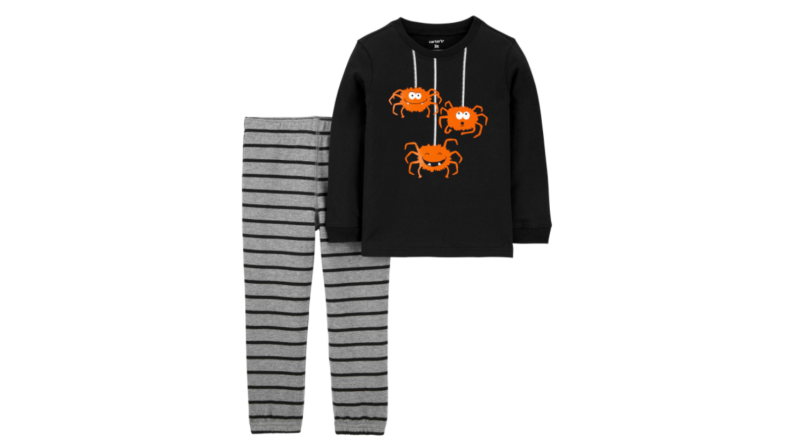 I'm in love with this little long-sleeve shirt and jogger set. The three little spiders are goofy and cute, and the striped bottoms add a bit of sass to the outfit. It's both charming and comfortable and makes changing diapers quick and easy in any setting. Although the spiders are specific to this time of year, the joggers can be mixed and matched year-round!
Get the Two-piece Halloween Tee & Jogger Pant Set at Carter's for $15.60
5. These Skeleton pajamas that will tickle your funny bone
This cotton pajama set requires the perfect amount of effort if you still want to dress your baby in Halloween attire, but don't want to go all-out with a full costume. The two-piece PJs are perfect for active babies, and they'll stand out during a family call…or will blend into the dark for a festive nap time. I can't get over how cute those little bones would look on a little babe.
Get the 2-Piece Halloween Skeleton Snug Fit Cotton PJs at Carter's for $8
6. This lumberjack-esque getup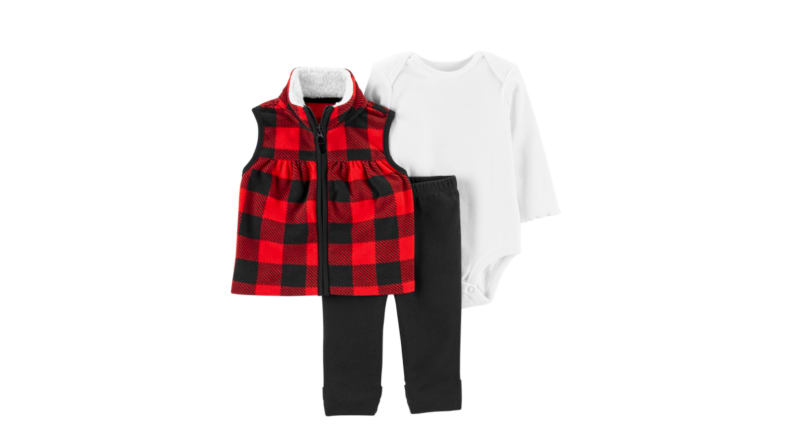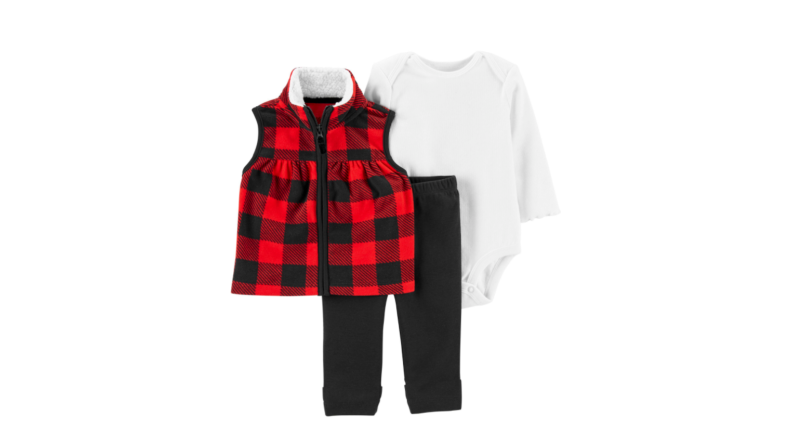 This cozy three-piece set is ideal for an outdoor gathering in the fall air. It's one part lumberjack and one part picnic, making it a warm and cozy go-to for your little one. The microfleece vest will keep your baby warm while allowing them to still move around. An added plus is that each piece—the vest, long sleeve bodysuit, and pants—can be worn with plenty of other outfits and will still be in style for the later holidays.
Get the Three-piece Buffalo Check Little Vest Set at Carter's for $16
7. This colorful and vibrant three-piece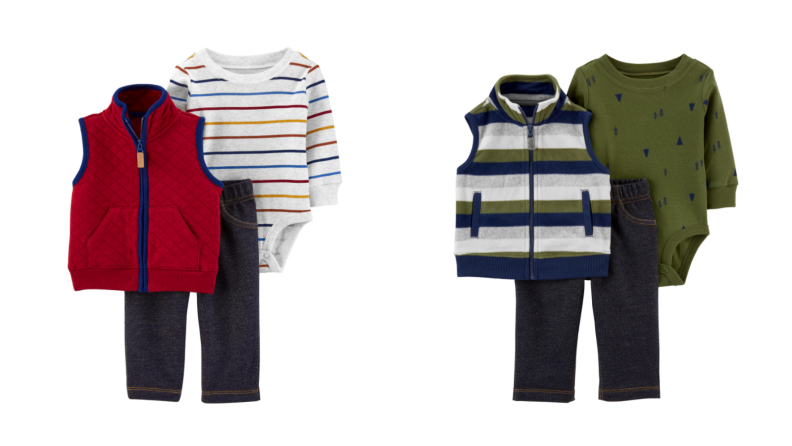 This set gives off the perfect autumnal vibe, from its quilted vest that looks like you can snuggle up in it, down to the bodysuit that looks so soft. The red and blue version has a homey, striped bodysuit and red vest that is reminiscent of Paddington. On the other hand, the green and blue option is perfect for an active baby, with little trees printed on the long sleeve and a more colorful, striped vest. Both sets are perfect for sitting beside a fire and telling stories with loved ones.
Get the Three-piece Little Vest Set at Carter's for $32
8. A ferocious animal print bodysuit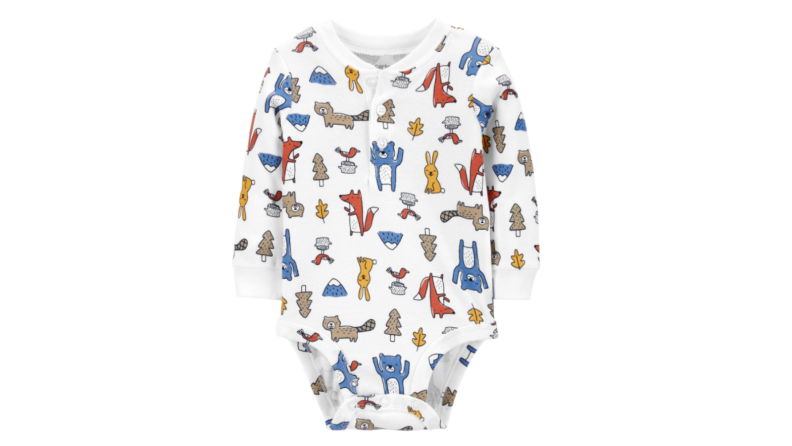 Though this bodysuit isn't strictly Halloween themed, it's a cute fall staple. The little foxes and bears are so happy and the leaves and trees are reminiscent of beautiful fall foliage this time of year. You can pair this bodysuit with just about any bottoms for a perfect October outfit that's ready for family portraits or outdoor get-togethers.
Get the Animal Henley Bodysuit at Carter's for $7
9. This cozy twill denim jacket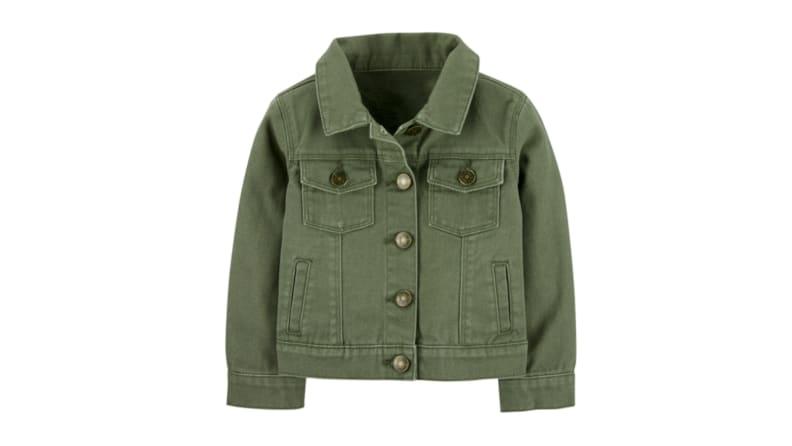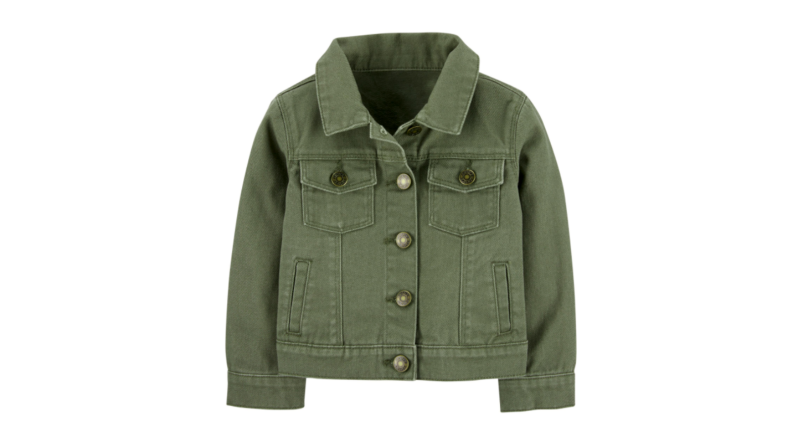 If this jacket was my size I'd be pairing it with a sweater and scarf every day. Carter's calls it an "instant outfit maker," and you'd be lying if you disagree. It's pre-washed for extra softness, and the thick fabric will provide much-needed insulation for any outdoor gatherings. For your little one, I'd recommend a patterned bodysuit and joggers to complete the look.
Get the Twill Denim Jacket at Carter's for $18
10. This set that's fit for a ballerina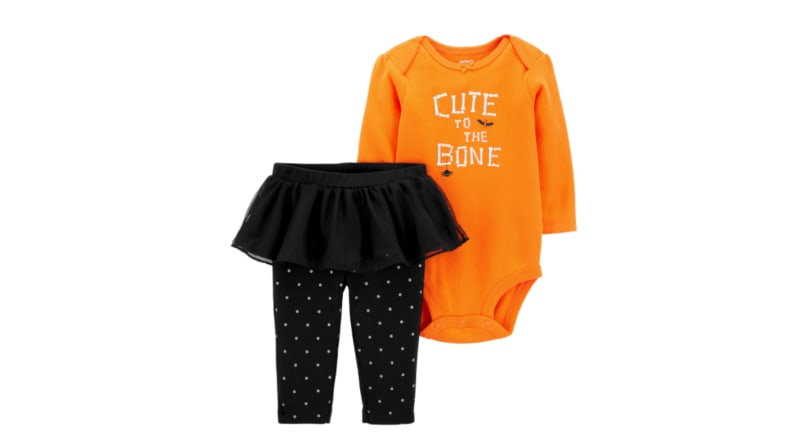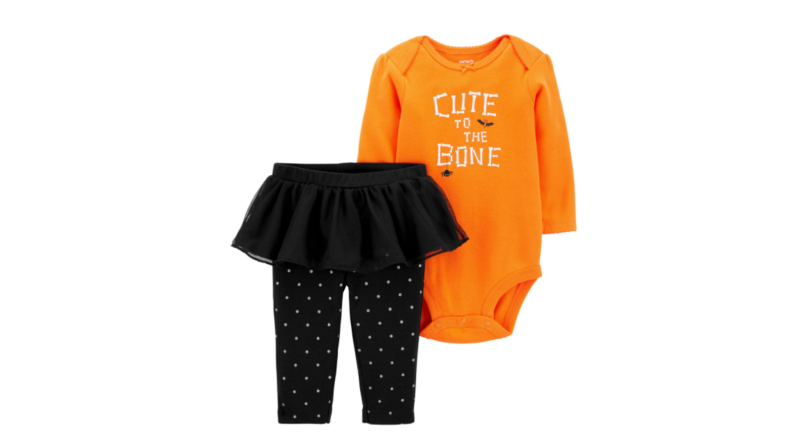 This precious tutu and leggings outfit is just what it claims: cute to the bone. It's bright and spooky, with bats and polka dots to complete the Halloween look. The long-sleeve bodysuit will keep your baby girl warm and bundled up, while the tutu adds a touch of whimsy without sacrificing mobility. It's festive and fancy all in one.
Get the Two-piece Halloween Bodysuit & Tutu Pant Set at Carter's for $11
11. A basic turtleneck to pair with anything
Who said turtlenecks are only for adults? This turtleneck bodysuit, which comes in navy, black, and gray, is perfect for chilly fall mornings and evenings. It's made from 100% cotton to stay warm, but it's not too bulky to pair with pants and a jacket. I'm adding this cute little staple to my Pinterest board for the future, but I recommend getting it in all three colors to dress your baby in all winter long.
Get the Turtleneck Bodysuit at Carter's for $7
12. This tee for the whole family
Everyone in your family can join in on the fun by wearing matching 'Boo Crew' shirts. With size ranging from newborn to adult, your whole crew can celebrate Halloween together in style. These orange and black tees are perfect for family Facetimes and are a great alternative to a full-blown costume!
Get the Boo Crew Jersey Bodysuit at Carter's for $7
The product experts at Reviewed have all your shopping needs covered. Follow Reviewed on Facebook, Twitter, and Instagram for the latest deals, product reviews, and more.
Prices were accurate at the time this article was published but may change over time.