Ultimate 4 Days Batam Itinerary
Batam Riau Islands is one of the few lesser-known tropical places in Indonesia. Over the years, it's gained a lot of popularity in tourism for its low-expense holidays. I've lived in Batam for almost a decade and here's how you can build your Batam Itinerary for 4 days.
To cover most must-visit places in Batam Riau including a stay at an exotic beach resort, you need no more than 3-4 days. It is a small city where only a few spots like the Barelang Bridge need more than an hour's drive. Though a city, there's not too much of a hustle and bustle. Take your time and wander the island at your own pace.
Like most of Indonesia, the people are hospitable and calm. So make yourself comfortable as you tread through this Batam Itinerary for 4 days.
Batam Itinerary for 4 Days
This itinerary is based on my experiences of the places I've visited considering their best times and peak times. I've put this list together – including getting there and keeping the short 4 days span in mind. Plan your itinerary at your convenience.
Day 1: Arrive at Batam Center, Riau Islands
There are a handful of ways to get to Batam. The easiest way is via ferry from Singapore (HarbourFront or Tanah Merah) to Batam. While you can choose your preferred terminals to land in among the 3 to 4 terminals across Batam, the most popular ports are Batam Center and Sekupang.
If you've booked a beach resort already at Nongsa or some other spot, Nongsapura and Marina Waterfront ferry terminals are better options. Tourists usually head straight out here to their resorts like Nongsa Point and Turi Beach and avoid the city traffics.
But if touring the place is your priority, I'd recommend at the heart of the place – Batam Center. When coming to different parts of Indonesia or Malaysia, getting to Batam via the Hang Nadim Airport is also an option.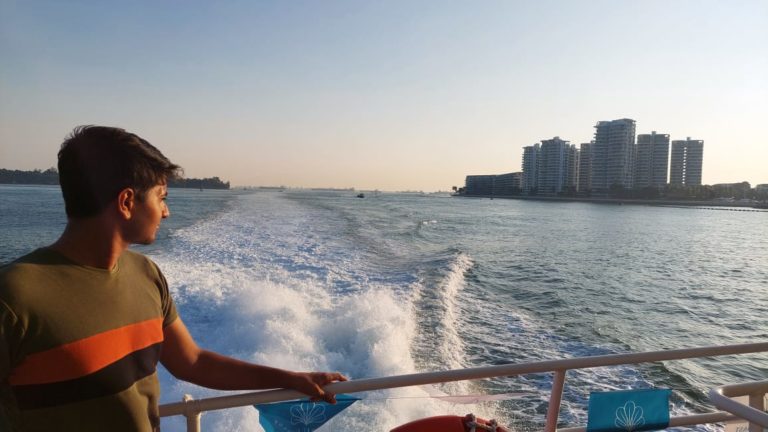 Visit the Barelang Bridge
The first must-visit spot in Batam is the infamous Barelang Bridge. It constitutes of 6 bridges that connect the main Riau Islands – Batam, Rempang, and Galang Islands. Hence the name Ba-re-lang! While it's no more than a set of bridges to look forward to, the 1st bridge is the main feature to visit.
Hung high by enormous cables to two massive towers placed in between the islands, it makes up for one of Batam's most iconic spots.
Start driving here early in the morning (or right away if you've arrived in the morning). Traffic in the evenings and weekends here can get crowded. When you're here, don't miss out on grilled corn (called Jagung) and coconut water at the street stalls after the bridge. They're some of the best corn I've had!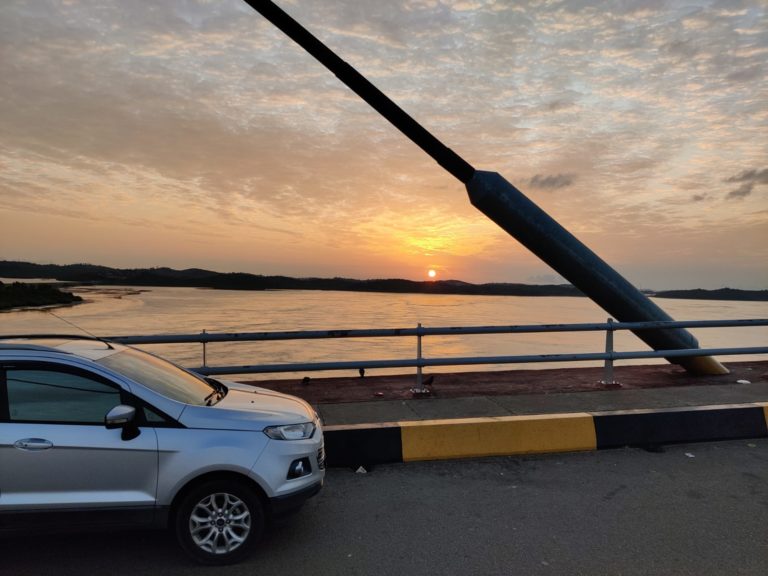 Swim at Mirota Beach
With dozens of beaches to find on Batam's map, it's hard to find an ideal place to swim and sit on the beaches. Even if it is clean, it's always crowded. Mirota Beach is one of the few sweet beaches on the Barelang route.
Get here early after stopping at the Barelang Bridge. The mornings are calm and empty for a swim. When I visited, the weather was perfect and the waters – though not crystal clear – were sweet for a dip.
Most stalls aren't open early, so have your breakfast before getting here or get it with you. We swam for an hour or two before bathing and getting back on our way.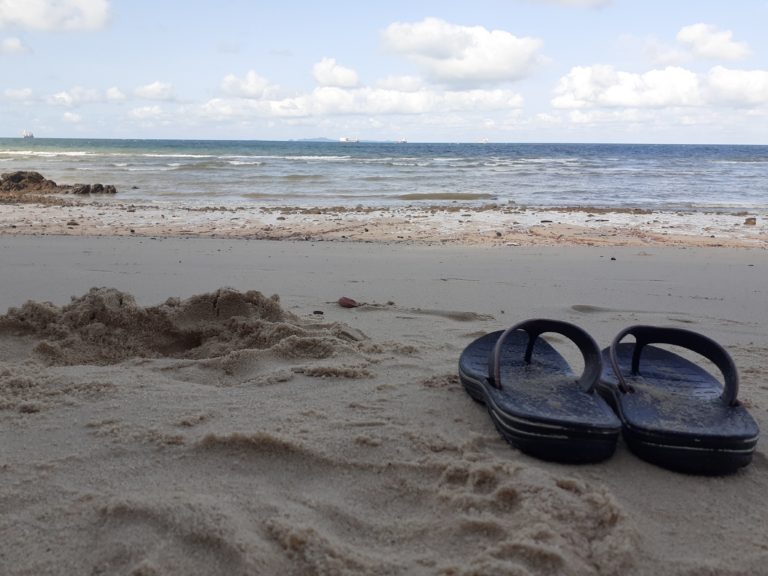 Have Seafood at Cita Rasa Restaurant
How can one not have seafood in Indonesia (unless you're vegetarian, of course)? Cita Rasa seafood restaurant is just 40 minutes away from the Vietnamese Camp. Located on the Cita Rasa port, the road connectivity is terrible and parking isn't great either.
But people do visit from around for its fresh offbeat and local seafood! Either Cita Rasa or there are a few other seafood options on the Jembatan Barelang path. Most seafood places by the sea aren't very different from one another.
To name a few, some well-known seafood places around Galang and Rempang Islands are Indah Jaya Seafood, Lucky Seafood on bridge 5, or Barelang Seafood at bridge 1. Try not to get too far from Galang Island as your next stop is the Vietnamese Camp.
Drive through the Galang Refugee Camp
Further down a few bridges on Galang Island is the Vietnamese Refugee Camp. This is no more than a short 1-2 hour drive through the camp. You'll need a nominal fee to enter. Step down at the museum and through the Galang camp pictures if you wish to.
When you drive through, you'll pass by an old hospital, a cemetery, and even a police station which were all used back in the days by refugees!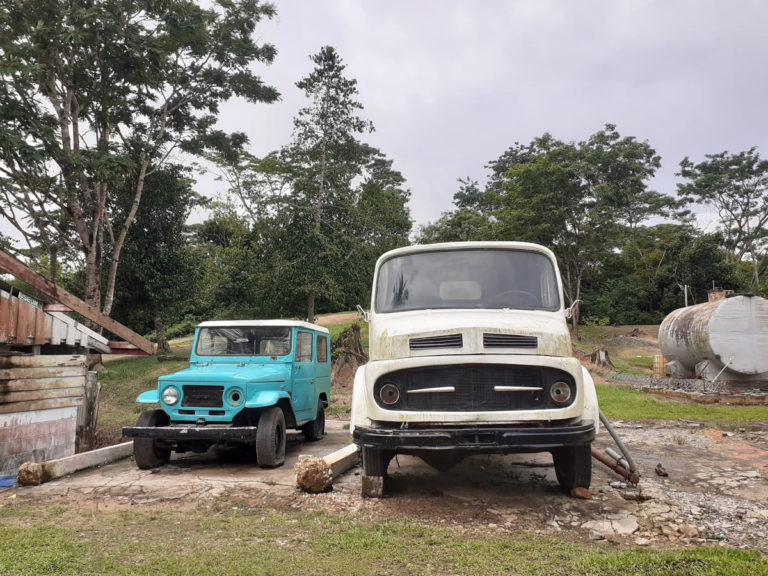 Visit the Maha Vihara Dutriya Temple
Towards the evening, give the Maha Vihara Dutriya Temple before you head to your resort. The Buddhist temple features large statues of Buddha in various forms. I somehow visit it every time I visit Batam as the whole place gives a sense of relief and peace.
It makes a perfect end to a long day with calmness. A walk around the temple takes around 1 – 1.5 hours at most. There's also a buffet-style vegetarian restaurant at the back of the temple that's worth trying.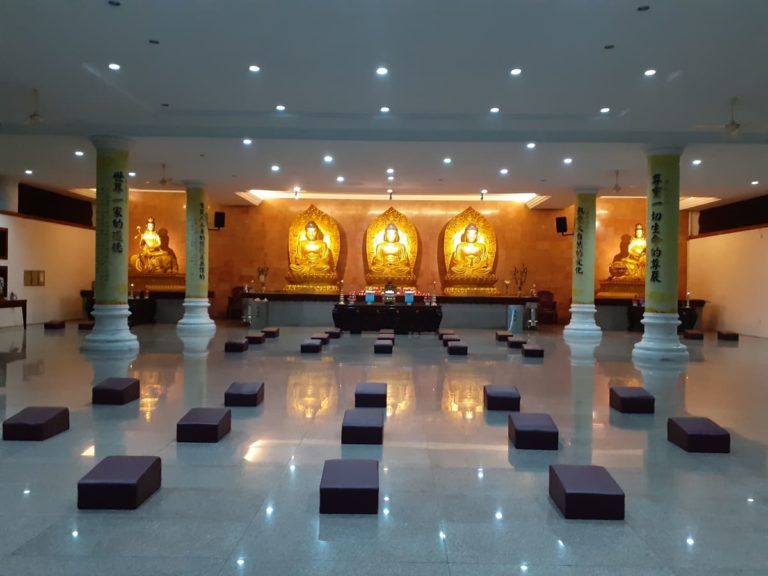 Batam Itinerary for 4 Days: Check in your resorts
There's no hard and fast about choosing the best resorts in Batam. All of them are more or less the same. But to recommend, I'd say stay at a beach resort. Some all-time popular ones here are the KTM Resorts, Nongsa Point Resort, Turi Beach, and Harris Hotel.
Carry no more than a small backpack with you while touring the island. It gets really hot here and carrying large luggage around can be tiresome. Unless you've rented out a car, check-in and keep your luggage at the resorts.
Since Batam isn't that big, feel free to book one of the mentioned resorts above for your entire trip. You can get back to the same resort after touring throughout the day. Most places in Batam take no more than an hour's drive.
Day 2: Begin with Water Sports at Harris Resorts
Speaking of diving in Southeast Asia, Indonesia boasts its rich natural availability for it. Harris Waterfront Resorts is just one spot for watersports. If you're looking for a specific watersport like kitesurfing or cable wakeboarding, these are pretty big sports in Batam and attract flocks of adventurer seekers here over the weekend for affordable rates compared to their home country. If you are looking for more relaxing and less technical water sports that are kids-friendly, when staying at resorts like Nongsa Point, Turi Beach, or Nuvasa Bay – request if they offer watersport facilities.
Some all-time watersport places are Montigo Resorts, Turi, and Max Dive's centre for diving. For wakeboarding, some well-known spots are Cabana Club at Turi Beach and Waterfront City (Harris Resorts). A newer spot coming up is the Batam Wakepark specifically for Wakeboarding.
Leave snorkeling out for now as there's a special spot for it. The most common activities here are banana boat rides, kayaking, and jet skis.
Have lunch at Love Seafood / Harbour Bay Seafood
Seafood again! Don't miss out some great places like the Love Seafood in Batam Center or Harbour Bay Seafood. If you're along with a group of 4-6, get the buffet deal at Love Seafood where they have a variety of options on the same tray.
On my visit, we got the buffet option with chilly crabs, fried prawns and squid, soft fish meat, and seashells – it was a LOT of food. It's worth the visit.
Go shopping at malls and hit a spa!
If Batam's famous for something – it's seafood, resorts, and spa. There are tons of spa spots in Batam. The best area to find your preferred spa is Nagoya Hills. This part of Batam is popular for cheap shops and massages.
Get to the Nagoya Hill Mall which are dozens of spas including the Eska Wellness Spa and Reborn Batam. As for shopping, there are varieties of individual stores to check out in Nagoya. Practice your bargaining skills here!
If not shopping, stroll through the food stalls aisle at one end of the mall for some inexpensive Indonesian delicacies like curry puff, Roti'O, and Kue Putu!
Dine at Sederhana Padangnese
It's a disgrace not to try the Padang cuisine in Indonesia. Luckily, there are Padang restaurants in all corners of Batam – some bigger than the others. But for the best, any local will recommend a Sederhana restaurant joint.
The nearest Sederhana Padangnese to the Nagoya shopping mall is no more than 10 minutes away. When you're there, tell them which animal meat you eat and they'll bring all the varieties of it to your table. Don't worry, they'll charge only for the plates you've taken!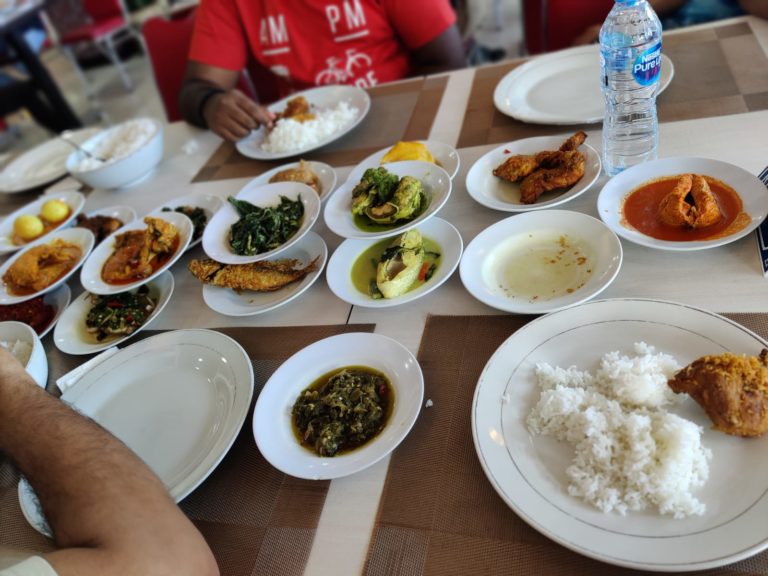 Day 3: Take the Pulau Abang Trip
Reserve a full day for snorkeling at Pulau Abang Island. Indonesia is known for its coral reefs but it's hard to find those snorkeling spots, especially for tourists. Pulau Abang isn't a resort (or hotel for that matter), it's a small homestay organized by the locals of the island.
The whole day is organized on the package where pickup, meals, snorkeling gear and timings all come on a single package. But the most interesting part is snorkeling itself.
Snorkeling at Pulau Abang's crystal clear waters and Dedap beach with natural white sands to be is one of Batam's must-do experiences. The aquatic life lies right beneath our flippers no more than a meter away!
One site to book your Pulau Abang is EnjoyBatam – check out all the package details here as well. Being a local spot, only call reservation is available now. Request a local (or your resort) to help you out with the package booking.
Day 4: Stay at Kiki Beach Resorts
The Kiki beach is no doubt just another resort. What makes it unique is it's a private beach not accessible by road unless you're off-road through the woods. Situated on the Galang Island, the resort hosts a boat for pickup from a port on Rempang Island.
You can book one day and night stay where they pick you up at a specified time in the morning and drop off the following day. The remoteness of the spot where only tourists staying at their villas have access to the beach for that night makes it a luxurious experience.
With the civilization and Batam's mainland far off, there was no city lit sky in sight. I felt blessed to experience the dark night's sky ignited with stars. The villas itself are something to experience. Made up of large air-conditioned tents and floor-to-ceiling glass panels for entrance and bathrooms, it was worth the expense.
With no place to get around aside the beach, villa, and the long boardwalks – the resort is inclusive of kayaking and squad bikes.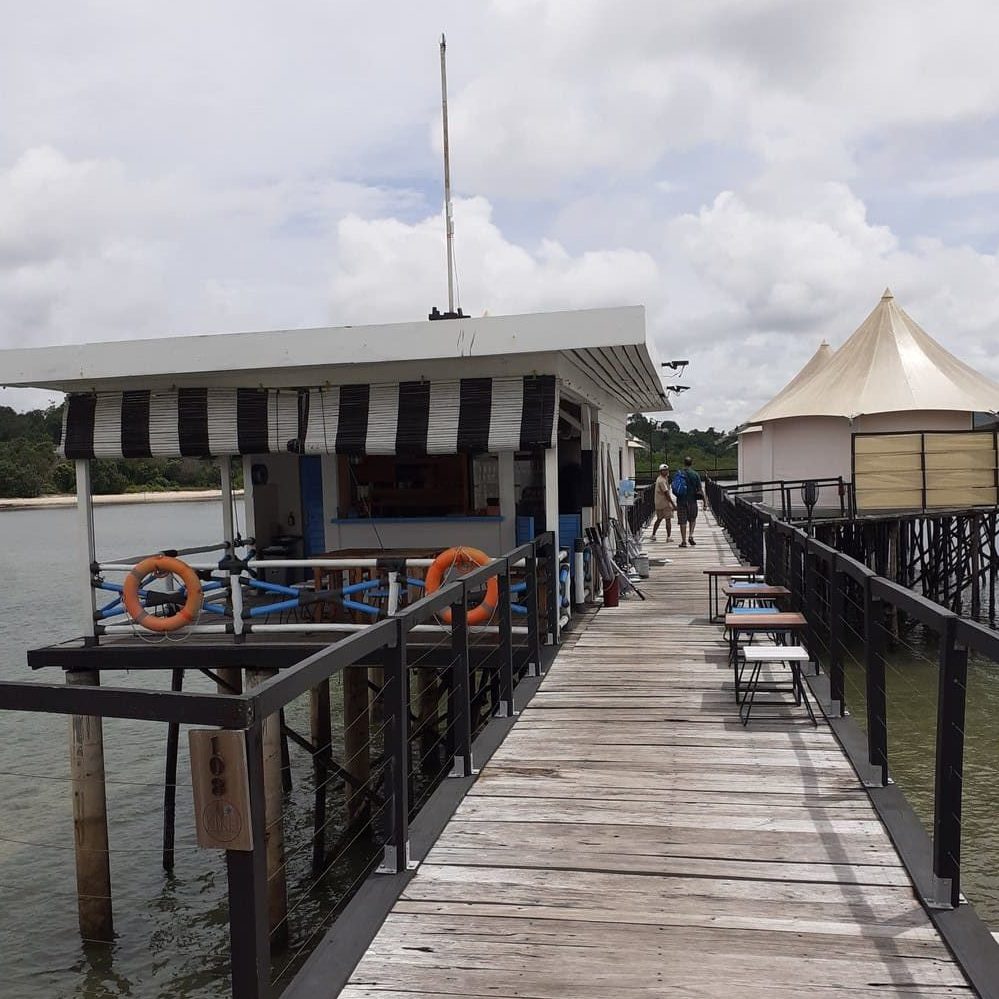 More things to do in Batam Riau
I felt that Kiki Beach Resort is worth spending a day with its unique private beach service. But if you've had enough of resorts, the itsy bitsy stuff left to do in Batam is shopping and eating.
People come to malls like BCS, Nagoya Hill, Grand Batam, and Mega Mall for its great variety of clothing, shoes, and bags. Nagoya Hill and BCS are great to look for niche items in clothing and accessories and can even try out your bargaining skills here!
For food, some other things to try out in Batam is the evergreen Martabak Paratha. They're called kosong paratha (very different from the Indian Paratha) given along with chicken curry. Some other food joints to try out at malls are Bakso Mie and Ria Resto.
On my last days in Batam, I went out to FreshBeer Batam Center where they have their own brewery. The more exotic part was their menu with choices of crocodile, snake, and deer meat! That sums up this post on Batam Itinerary for 4 days.