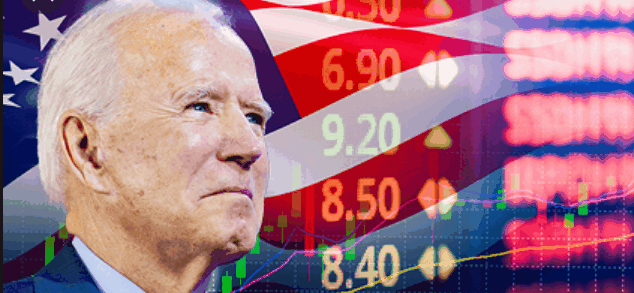 US close: Stocks mixed as House passes stimulus bill
Wall Street stocks finished mixed on Wednesday, as some modest inflation figures offset concerns around elevated bond yields.
At the close, the Dow Jones Industrial Average was up 1.46% at 32,297.02 and the S&P 500 advanced 0.6% to 3,898.81, while the Nasdaq Composite slipped 0.04% to 13,068.83.
The Dow Jones closed 464.28 points on Wednesday, pushing the blue-chip index to a new record high.
Wednesday's main focus was February's US consumer price index, which increased 0.4% in February on a seasonally-adjusted basis, after rising 0.3% in January, according to the Bureau of Labor Statistics.
The consumer price index, which measures the change in prices paid by consumers for goods and services, has now increased 1.7% year-on-year before seasonal adjustment, a larger increase than the 1.4% reported for the period 12 months ended 31 January.
However, Pantheon Macroeconomics' Ian Shepherdson said markets will be happy to see a third straight modest core CPI print "for now", but cautioned that today's data didn't tell us anything about the post-Covid outlook, which he said would initially be "a story about margin-rebuilding in the services sector".
Traders were also keeping a keen eye on the 10-year Treasury bond yield, which was last down to 1.52% after the $38bn note auction earlier in the session.
Also in focus, House Democrats managed to pass Joe Biden's $1.9trn stimulus bill early in the US day, with the president expected to sign the bill over the weekend.
That would lead to cheques of up to $1,400 per eligible American being sent by the end of the month.
Elsewhere on the macro front, applications to refinance a home loan fell 5% week-on-week, according to the Mortgage Bankers Association.
That marked the first year-on-year drop since March 2019, as the average contract interest rate for 30-year fixed-rate mortgages with conforming loan balances increased to 3.26% from 3.23%.
In corporate news, Tupperware stock plunged 19.88% after full-year profits fell short of expectations at the plasticware direct sales giant, despite posting improved revenues.
Online dating service Bumble, corporate software behemoth Oracle, and cinema operator AMC Entertainment were all in the red by 0.62%, 0.72% and 6.19% respectively, ahead of the trio releasing their latest numbers after the closing bell.
Dow Jones – Risers
Boeing Co. (BA) $245.34 6.39%
Walgreens Boots Alliance, Inc. (WBA) $50.52 4.25%
Goldman Sachs Group Inc. (GS) $342.02 3.46%
International Business Machines Corporation (CDI) (IBM) $127.87 2.97%
Dow Chemical Co. (DOW) $64.09 2.94%
Honeywell International Inc. (HON) $213.03 2.55%
Walmart Inc. (WMT) $132.18 2.55%
McDonald's Corp. (MCD) $213.31 2.28%
JP Morgan Chase & Co. (JPM) $155.13 2.17%
Caterpillar Inc. (CAT) $221.06 1.96%
Dow Jones – Fallers
Apple Inc. (AAPL) $119.98 -0.91%
Unitedhealth Group Inc. (UNH) $349.60 -0.68%
Intel Corp. (INTC) $62.25 -0.67%
Microsoft Corp. (MSFT) $232.42 -0.58%
Dowdupont Inc. (DWDP) $30.52 0.00%
Salesforce.Com Inc. (CRM) $211.96 0.20%
Walt Disney Co. (DIS) $195.06 0.28%
Amgen Inc. (AMGN) $229.96 0.42%
Home Depot Inc. (HD) $266.24 0.48%
Cisco Systems Inc. (CSCO) $48.29 0.84%
S&P 500 – Risers
Franklin Resources Inc. (BEN) $28.62 9.82%
Mosaic Company (MOS) $33.06 7.41%
Boeing Co. (BA) $245.34 6.39%
Fluor Corp. (FLR) $19.94 6.35%
Valero Energy Corp. (VLO) $81.37 6.25%
Discovery Inc. Class C (DISCK) $56.01 5.74%
Mattel Inc. (MAT) $20.78 5.67%
HollyFrontier Corp (HFC) $40.97 5.57%
Arconic Inc. (ARNC) $29.79 5.21%
FMC Technologies Inc. (FTI) $9.09 4.84%
S&P 500 – Fallers
General Electric Co. (GE) $13.25 -5.36%
NRG Energy Inc. (NRG) $40.74 -4.88%
Lam Research Corp. (LRCX) $518.70 -4.56%
PerkinElmer Inc. (PKI) $120.35 -4.45%
Micron Technology Inc. (MU) $85.41 -4.36%
Hologic Inc. (HOLX) $68.76 -4.34%
Twitter Inc (TWTR) $64.83 -3.98%
Western Digital Corp. (WDC) $66.58 -3.97%
KLA-Tencor Corp. (KLAC) $283.45 -3.62%
Qorvo, Inc. (QRVO) $165.37 -3.24%
Nasdaq 100 – Risers
Walgreens Boots Alliance, Inc. (WBA) $50.52 4.25%
Dish Network Corp. (DISH) $35.78 3.92%
DENTSPLY Sirona Inc. (XRAY) $62.06 3.68%
Comcast Corp. (CMCSA) $57.21 2.95%
Liberty Global plc Series A (LBTYA) $25.23 2.81%
Liberty Global plc Series C (LBTYK) $24.99 2.59%
Intuitive Surgical Inc. (ISRG) $719.81 2.42%
Charter Communications Inc. (CHTR) $629.01 2.32%
Cognizant Technology Solutions Corp. (CTSH) $76.02 2.19%
Cintas Corp. (CTAS) $353.29 2.15%
Nasdaq 100 – Fallers
Lam Research Corp. (LRCX) $518.70 -4.56%
NetEase Inc. Ads (NTES) $105.70 -4.50%
Micron Technology Inc. (MU) $85.41 -4.36%
Hologic Inc. (HOLX) $68.76 -4.34%
Western Digital Corp. (WDC) $66.58 -3.97%
KLA-Tencor Corp. (KLAC) $283.45 -3.62%
Baidu Inc. (BIDU) $255.14 -3.46%
Asml Holdings N.V. (ASML) $523.33 -3.00%
Microchip Technology Inc. (MCHP) $141.32 -2.85%
Skyworks Solutions Inc. (SWKS) $167.66 -2.76%