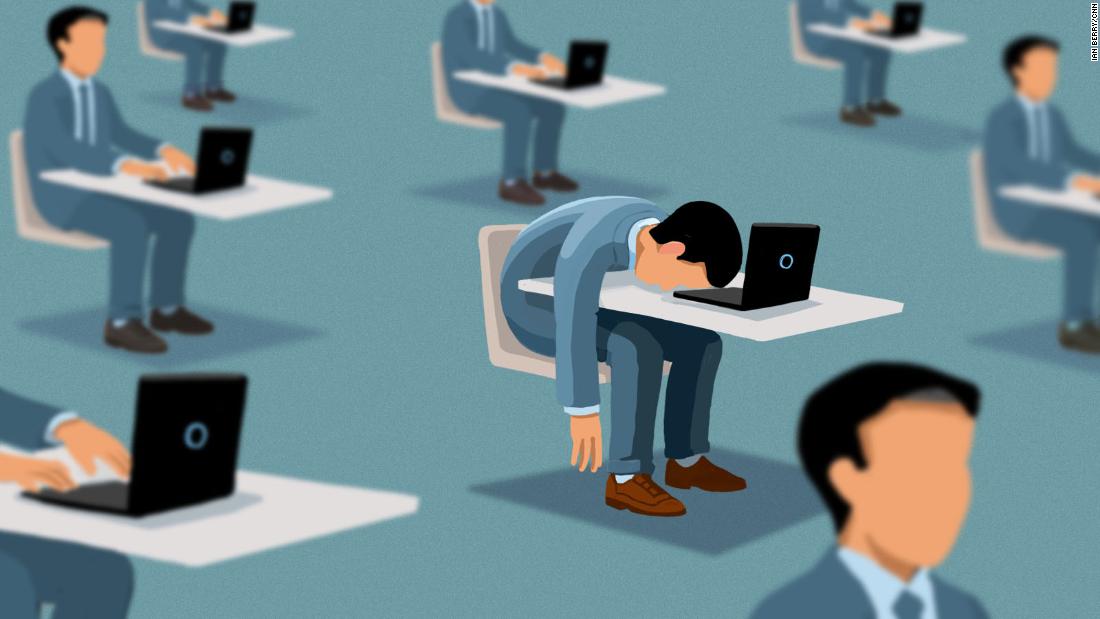 Youth in China, Japan and South Korea are 'lying flat' because they're exhausted and without hope
Now 24, Li just wants to take a rest.
Across the country, young people like Li — who requested to be referred to by that pseudonym because he fears career and political repercussions for his views — are getting tired of the fierce competition for college and jobs, and the relentless rat race once they get hired.
They're now embracing a new philosophy they've called "tang ping," or "lying flat."
The phrase apparently traces its origins to a post earlier this year in an online forum run by the Chinese search giant Baidu. The author of that now-deleted post suggested that instead of working one's entire life chasing after an apartment and traditional family values, people should pursue a simple life.
In other words, just "lie flat."
Interest in "lying flat" has exploded on social media and attracted the interest of censors, who in some cases have restricted the use of the term. Several state media outlets have also pushed back against the conversation, suggesting that young people should strive to work hard instead.
This type of phenomenon, though, isn't limited to China. Across East Asia, young people say they've become exhausted by the prospect of working hard for seemingly little reward.
In South Korea, young people are giving up on marriage and home ownership. In Japan, they are so pessimistic about the country's future that they are eschewing material possessions.
"Young people are very burnt out," said Lim Woon-taek, a professor of sociology at Keimyung University in South Korea. "They don't know why they have to work so hard."
As more young people grow frustrated with relentless pressure, they say they want to — and in some cases are — giving up conventional rites of passage, such as getting married or having children.
Where the young people just want to lie flat
Li spent every day in high school studying. On his college entrance exam, his score placed him in the top 0.37% among all high school seniors in Shandong province. He's studying for his master's degree at one of the top three law schools in China, and was hoping to get a job at a prestigious international law firm based in Beijing.
But when he applied for graduate jobs and internships in March, he got rejected from more than 20 international law firms in China. Instead, he settled for a trainee position at a domestic law firm.
"The competition between me and other interns was so intense," said Li. "When I see those students who are still trying to go to prestigious international law firms, I feel exhausted and unwilling to contend with them anymore."
The "tang ping" lifestyle has started to resonate with him, he said. Tired of trying to get to the top, Li has decided to "lie flat" by doing the bare minimum at his internship.
"Many people who were better than me were working harder than me, so I felt anxious," he said. "'Tang ping' is … contending with the status quo, not being ambitious, not working so hard."
Supporters of the phrase have also developed a philosophy that extends beyond the initial Baidu post. In one group on the social platform Douban, someone posted a manifesto describing the characteristics of the "tang ping" lifestyle.
"I will not marry, buy a house or have children, I will not buy a bag or wear a watch," the "lying flat manifesto" read. "I will slack off at work … I am a blunt sword to boycott consumerism."
That group was eventually banned this spring, after attracting thousands of participants. A hashtag for the term was also censored on Weibo, China's version of Twitter.
A lot of young people are working for such companies, according to Terence Chong, an associate professor of economics at the Chinese University of Hong Kong (CUHK).
"They compete with each other," he said. So even if not everyone wants to work such hours, they may feel compelled to do so to keep up.
Those stresses aren't limited to the tech sector. Tony Tang — a 36-year-old university professor in Guangdong — said he was tired from working 12 hours a day, seven days a week.
"I think I'm too overworked," said Tang, who requested to be referred to by the pseudonym Tony Tang because he was afraid of facing repercussions for his views. "They just regard working hard as one kind of things for Chinese people to do."
"No matter how hard they work, it is very difficult to buy [a] house," said Chong of CUHK. "In a society [where] you see some hope there, if you work hard, then you can … buy [a] house and so on, then you can work hard. But the thing is if you cannot see any hope, then you want to 'tang ping.'"
Opting out of dating, marriage and kids
While "tang ping" is a relatively new trend in China, young people in other parts of East Asia say they've been struggling with similar frustrations for years.
At just 22, Shin Ye-rim has given up on ever getting married, giving birth or owning a home.
"I think the biggest problem is that house prices are going up too severely," said Shin, who studies at the prestigious Yonsei University in Seoul. She added that she didn't know if she could financially support a child.
"The job market is so poor that it becomes hard to get a job," said Lim, the Keimyung University professor. "Because there are no jobs, you are less able to plan a future-oriented life."
Shin, the Yonsei student, said her mother quit her job after giving birth to her and her younger sister. Now, she doesn't want to let marriage get in the way of her own personal or professional life.
"I thought that my marriage partner could get in the way of my professional work or things that I want to do personally," Shin said. "I've been studying and working hard to achieve self-fulfillment, but I don't want to give up on that by getting married or having a child."
Resignation generation
Young Japanese people have been frustrated with work pressure and economic stagnation for years, too.
"I spend my money only on things [that] I like and find value [in]," said Kenta Ito, 25, who describes himself a minimalist and identifies with the satori sedai. He earns a decent wage at a consulting firm in Tokyo, but doesn't care about owning things like a house or a car.
"They would do what they're expected to do, but maybe not so much beyond that," said Sachiko Horiguchi, an associate professor of anthropology at Temple University's Japan Campus. "They're less materialistic, not so interested in consumption."
She added that the "satori sedai" have not seen a lot of economic development, resulting in their outlook.
"The resignation partly comes from the gap between the older generation who have seen economic progress … versus this generation," she added.
"Their salary isn't basically going to go up either under the economic decline, so you can't look for economic reward or material reward for what you do," Horiguchi said of the satori generation.
For 21-year-old Nanako Masubuchi, a senior at Gakushuin University in Tokyo, stagnant wages are one of the factors that impacted her decision to work overseas a few years after she graduates.
"About [the] Japanese [economy], I still cannot feel positive," she said.
What the future looks like
Ito, the 25-year-old consultant in Tokyo, is pessimistic about Japan's future. He worries that the country's resources will be focused on taking care of its elderly population, rather than his generation.
"As elderlies keep increasing and we Generation Z become a minority, most of Japan's tax will be spent to make those elderlies live long," Ito said. "Things will be difficult for us."
Shifting demographics are a concern across other parts of East Asia, too.
How much of that shift toward an older population will ultimately be attributable to "tang ping," though, may not become clear.
And some experts, like CUHK's Chong, suggested that while the trend might reflect what's taking place in the minds of some young people right now, many aspects of the manifesto — like slacking off at work and forgoing material things — may never become widespread.
"'Tang ping' may be just the thought of some young people," Chong said. "Ultimately, in the heart of people, people still want to work hard and get a good life."
— Zixu Wang, Laura He, Oh So-yeong, Chie Kobayashi, Wako Sato, Miku Morigasaki, Lauren Lau, Sasha Chua and Kazumi Duncan contributed to this report.